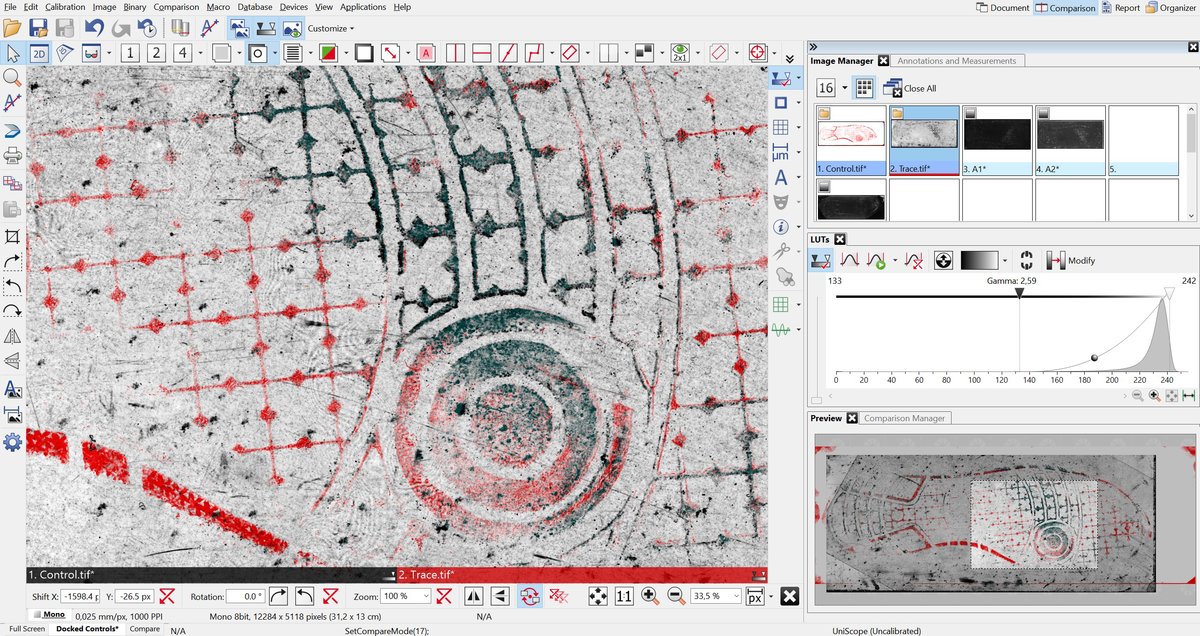 LUCIA Forensic is state of the art image processing and comparison software for forensic experts. The software comprises tools which cover all steps of trace enhancement, documentation of traces, multiple image comparison, and final report preparation. All functions are optimized according to needs of specific disciplines including fingerprint, shoeprint, tool marks, signature, or handwriting examination.
Image calibration, digital scale insertion

Rotation, flips, resizing

Curves, contrast and gamma adjustment, lighting

Shading correction, perspective transformation, distortion correction, smoothing, sharpening

Measurement of distance, angle, thresholding

Fully adjustable annotations – various tools with adjustable size, opacity, color

Annotation presets for most used tools
Transparency mode, transparency mode optimized for gelatin foils

Side by side split screen mode for 2 images with horizontal, vertical, freely rotatable or polygonal split line

Side by side tiled mode for up to 16 images

Direct subtraction or combination of 2 images for background removal

Full resolution screenshot for reporting
History of image processing stored within the image file

Whole comparison "as is" can be exported for four-eye verification or future case revisiting

Integrated image browser for locally stored images or network images with large previews and comprehensive filtering

Access to SQL databases, firebird based image database
PC scanner can be used to scan images directly into LUCIA Forensic. LUCIA Forensic supports wide range of CCD/CMOS USB3 cameras which can be mounted on a microscope or stereomicroscope.
LUCIA Forensic software is also fully integrated with all LUCIA dedicated systems like ToolScan R360 and TrasoScan.
Image Format Support
LUCIA Forensic supports all typical image formats (JPG, PNG, TIFF). It can also import RAW images, NIST fingerprint files, WSQ files, X3P 3D images, or extract images from a PDF document or an archive (ZIP) or document (XLSX, DOCX, ODT, ODS).
System Requirements
The software runs on Windows 11 64b operating system. Full HD and higher monitor resolutions are recommended, 4k is fully supported. Touch screen gestures and alternative control with tablet are supported. GPU can be utilized for performance improvement.