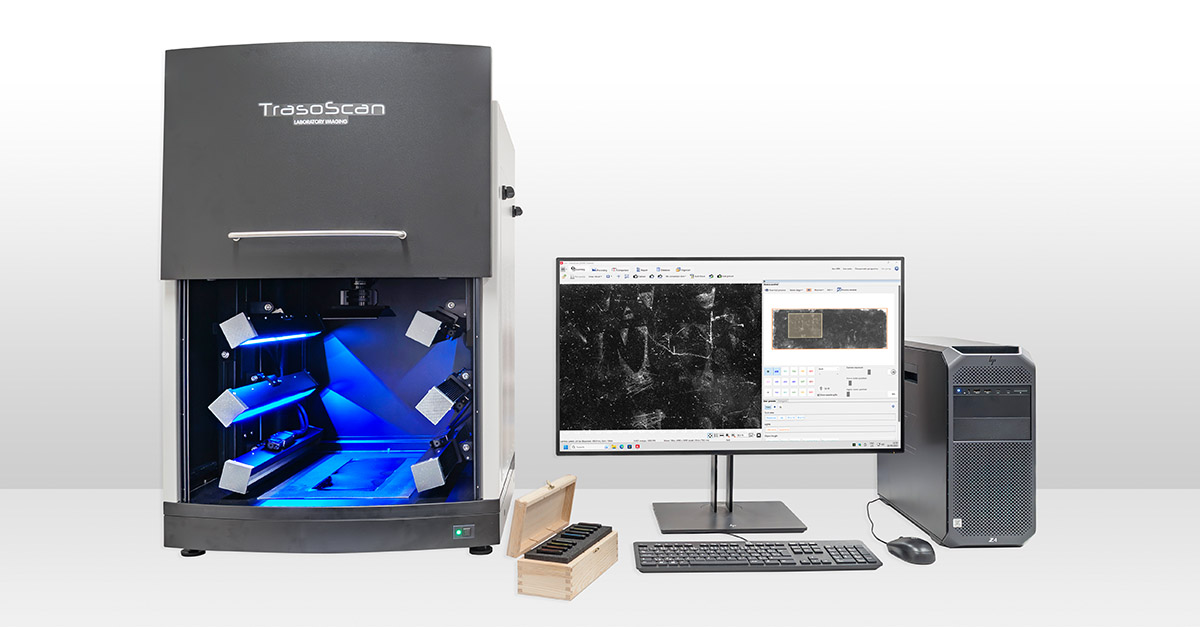 TrasoScan Applications
TrasoScan System is a completely versatile solution for scanning, examination, and comparison of all kinds of forensic evidence including:
Shoeprints (black / white / transparent foil).

Fingerprints (direct visualization, or treated with typically used powders).

Shoe soles, documents, and various other objects.
Versatile multi-spectral illumination in 6 pairs of LED panels, true RGB scanning available.

Motorized autofocus guarantees 1000 DPI resolution regardless of object thickness.

Real-time camera image – 100 x 70 mm area at fixed 1000 DPI resolution.

Scanning of area up to 400 x 210 mm at 1000 DPI resolution.

Scanning of objects of a height of up to 22 cm.

All accessories, filter holder, and a vacuum pump.

Complete software integration, all tools for image processing, comparison, measurement, annotations, and reporting.
The all-in-one device provides maximum versatility including the illumination suitable for fluorescent dyes and powders, oblique illumination, RGB scanning, and scanning of large objects. The vacuum working table with evacuated regions is suitable for standard foil sizes, for removing parasitic reflections and for improving of the image quality.

The straightforward user-friendly software interface for routine scanning, image documentation, and comparisons includes a wide scale of image-processing and enhancement tools and a wide range of comparison modes.

Various comparison modes (horizontal, vertical, freely rotatable, freely shaped split line, transparency, transparent foil mode, tiled mode with up to 16 objects side by side).

The comprehensive image manager for organizing of images during comparison – many images can be opened at once and the displayed images quickly swapped, the whole comparison can be saved for exchange between workstations. The saved comparison includes mutual positions of images and light orientation.

The integrated comprehensive image browser with much larger and higher quality thumbnails than in Windows Explorer.
Components
TrasoScan Device

Versatile TrasoScan device with a set of accessories used for scanning all possible pieces of evidence.

Vacuum Table and a Pump

Table with 2 vacuum circuits to improve the flatness of the foils or paper.

LUCIA Forensic Software

Active

For acquisition workstations.

Software providing full computer control of the TrasoScan Device and integrating all above-mentioned features, including scanning and analysis. PC is delivered with the system.

Passive

For analysis workstations.

Software providing all image processing and comparison tools – everything needed for analysis. Additional PCs can be delivered with the system or existing PCs can be used.
Specifications
| | |
| --- | --- |
| Resolution | 1000 PPI |
| Live image FOV | 100 x 70 mm |
| Scanning area | 400 x 210 mm |
| Illumination angles | 12°, 45° and 60° |
| Illumination panels | 3 pairs of high-power LED panels with up to 120 W total power. |
| Illumination colors | RGB-W panel for standard visualization (6 LEDs including white, red, green, blue, orange). UV-BG-Y panel for fluorescence excitation (6 LEDs including UV, violet, blue, green, yellow). |
| Wavelength range (when using RGB-W and UV-BG-Y panels) | |
| Accessories | Shoe holder, set of emission filters (UV cut, yellow, orange, red) with holders, set of closeup lenses (0.25D, 0.5D, 1.0D, 1.5D, 2.5D). |
| PC Workstation | 64-bit high performance PC with Windows 11, 31.5" 4K UHD monitor. |