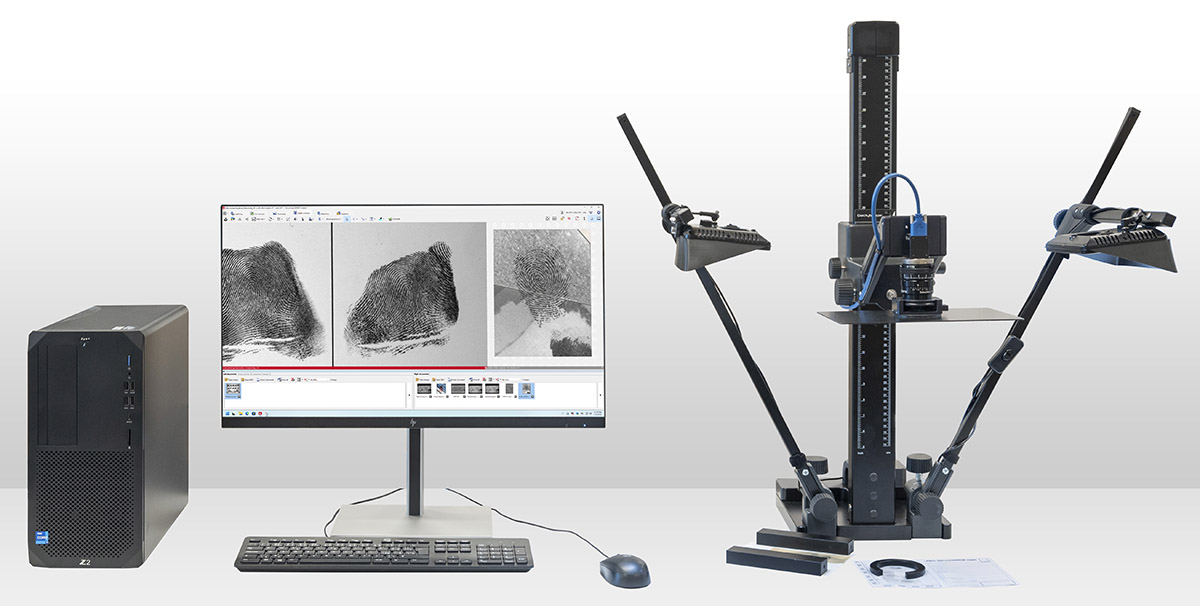 The LUCIA DactyScope software is an efficient solution for fast fingerpint comparison. A dedicated stand with a camera can be added to enable the operator to visualize fingerprints lifted with gelatin foils or directly on objects. The software can also serve as a platform for digital comparison of fingerprints captured by other devices. All common image formats plus NIST, WSQ, RAW, and PDF are supported.
A high-quality macro lens attached to a USB 3 CMOS camera (color or mono) provides excellent image quality without aberrations in the resolution range of 600 – 2500 PPI. This imaging unit is mounted on a column which allows to adjust its distance from the table surface manually. The scene is illuminated with a pair of LED panels. Image capturing, calibration, processing, annotating, measurement, and comparison are integrated in the LUCIA DactyScope software.
Features
A pair of 14 W LIM LED panels (3000 – 8000K) with homogeneous illumination and adjustable height and angle

A stand with coarse and fine manual focusing and a counterweight base leaving the entire working area free

12 MP camera with comfortable frame rate for top-quality real-time image

Optionally: a set of optical filters or a lens for expanding the FOV
Software Integration
Real-time image for comfortable focusing and object positioning

Focusing assistant and image calibration

Image lightening (on frame HDR), HDR capture, inversion and flip presets based on selected evidence type (black foil, white foil, DCT-Book)
The DactyScope application including a NIST-file module is built on the universal LUCIA Forensic software. It is specifically designed for fast and efficient comparison of fingerprint images coming from any source – a real time camera image, an image file, or a NIST file. The software contains all functions needed to examine fingerprints: image processing, documentation, comparison of multiple images, mutual alignment, marking, and preparing final images for reports.
Software Highlights
Image processing

Rotation, inversion, flip, crop

Brightness adjustments (curves) with indication of overexposed pixels, shading correction, local contrast

Annotations, digital scale

Side by side 2 image comparison

Automatic image zoom synchronization based on PPI

Image manager for each window which can hold multiple open images or NIST files organized in tabs

Dactyloscopy card can be generated

Dual cursor fo alignment by corresponding points, an alignment grid

Symmetrical joint movement and rotation of both compared images

Marking with customizable annotations (point, point-line, arrow, etc.), GYRO coloring, annotation alignment tools, numbering

Snapshots in full resolution, report creation

Ergonomics

4k monitor support, adjustable font and icon size

Multi-touch screen support for basic gestures

Pen tablets supported