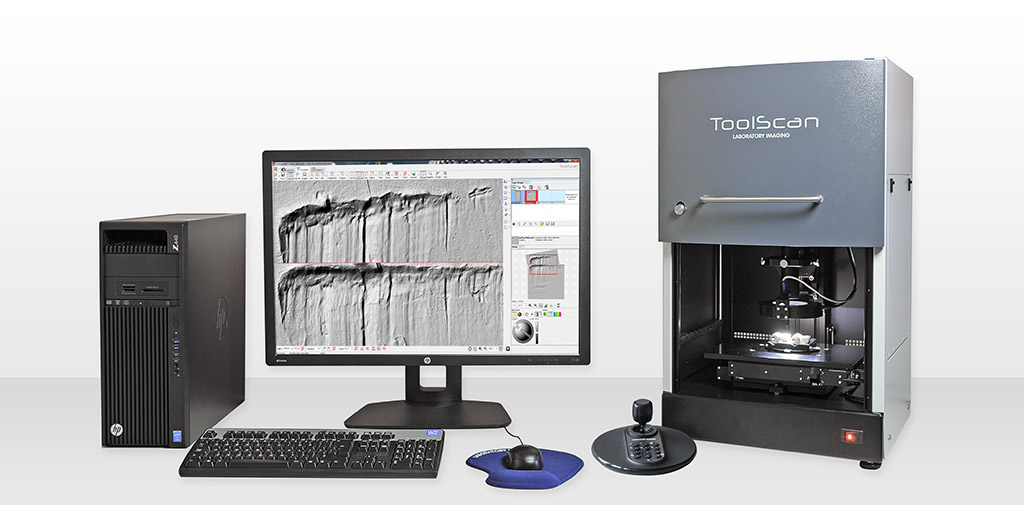 A complex system for scanning of tools and toolmarks
The ToolScan System by Laboratory Imaging represents a complete solution for forensic examination of tool marks. It is designed to provide live real time image and comfortable straightforward scanning of high resolution all-in-focus 2D and 3D images including photometric data. The 3D image is a texture-free representation of the real object, we call it a "digital silicone casting". It removes all material-specific lights and shades and emphasizes the shape and the height profile. Images can be saved into a database and shared via network. A full set of comparison functions is at hand for precise matching.
Cylinder locks, padlocks, cables, tire pieces, cartridge cases, plastic objects – these are just examples of objects which can be scanned. ToolScan is designed for maximum versatility. The supplied set of holders including a jaw vise and tilting mounts enable precise positioning inside the device for the best scanning results. Tool parts (e.g. plier jaws) can be scanned directly.
Besides standard tools for measurements and image processing, there is a rich set of 2D and 3D comparison tools. The texture-free topography can be displayed under any illumination direction which can be easily varied and synchronized between the compared images. Comparison modes include a transparency mode, 2 images side by side mode with rotatable or freely adjustable polygonal split line, or up to 8 images preview.
Acquisition Features
Top quality monochrome digital camera (optionally color)

Top quality telecentric lens

Precise laser focus

Segmented circular LED illuminator

High resolution of 3μm/px
Motorization and Control
The device is fully controllable via the ToolScan software and a programmable joystick

Precision stepper motors are used to move the object in XY plane and for focusing
Accessories
Set of holders including a jaw vise, tilting mounts, and magnets